The Island
As every good journey should we started ours with a hearty breakfast, eggs benny the perfect road food, and then we were on our way. The first day destination from Whistler and was Victoria the largest town on Vancouver Island and the provincial capital of BC. However, it was only   outside of Whistler that we had our first problem. One of our flexible fuel bladders to carry extra petrol for the longer stretches in the northern parts of the journey were catching and melting on Roxy's exhaust, so Matt had to pull off the highway and adjust the way they were positioned, he waved Liz on as the problem was not serious assuming to catch her up somewhere along the Sea to Sky Highway.
 60 km down the sea to sky highway in Squamish Matt still hadn't caught Liz up, so she pulled into a petrol station and quickly took out her phone to call Matt just in time to see him ride by. We didn't meet again until the Tsawwassen Ferry Terminal, as we both took a different route through Vancouver, with Liz opting to stay on the highway and Matt going through downtown. Liz arrived 20 minutes after Matt and we were on the 3pm ferry to Swartz Bay. It was an uneventful crossing although every little island we passed on the Strait of Georgia did seem to have their own weather, however, for the most part the weather was pretty good so we sat on the deck sunning ourselves for most of the Journey. We docked on Vancouver Island not long after 4.30pm and then it was only 30 km to Downtown Victoria, where we stayed for the following 2 nights.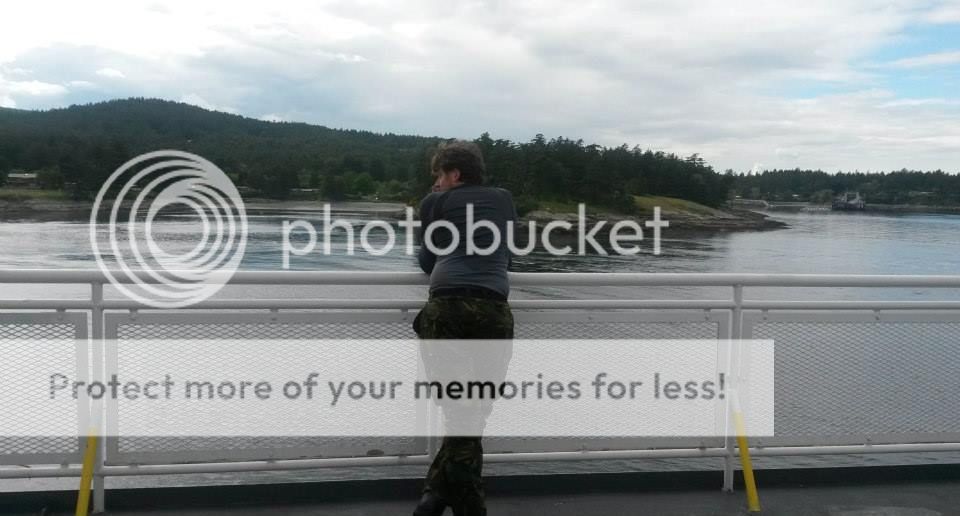 We arrived on Monday 19th May, Victoria Day and the last day of the May long weekend in Canada, from what we could see the city had had a pretty busy day and had all but gone to sleep that evening and after a dinner of burger and chips at a local fast food restaurant and few drinks in the hostel bar we followed suit.
The following day exploring Victoria was the plan, but first we had some last minute camping supplies to get hold of, so a quick trip to a camping store and then the day was ours to explore this city. Victoria seems to have a very relaxed vibe about it and the traffic in downtown is pretty minimal and as you get closer to the parliament building the British colonial history of the town is over exaggerated, according to locals this is for American tourists who are keen on this kind of thing.
As we wondered close to the seafront we suddenly thought we had been transported to Eastbourne or Southend on Sea, as there seemed to be an over proportional amount of retirement communities. With Victoria being quite a way south of Vancouver and having a maritime climate, it's much warmer than most parts of BC in the winter, so it receives a large migration of retirees from all across the country.
The thing that drew Matt most to Victoria, however were the breweries and brew pubs, he already knew how much he liked the IPAs brewed in this town, namely Fat Tug by Driftwood Brewery, Hop Circle by Phillips Brewery and Switchback by Lighthouse Brewing Company having sampled many craft beers during his time in Canada so far. In the afternoon we visited a couple of the brew pubs and a sampled some delicious beer as we enjoyed the afternoon sun.
Wednesday morning came around and we were back on the bikes, not until however we had portered all our gear down the four flights of stairs, as we had been staying on the top floor. Whilst loading our bikes we suddenly realised that we would have to factor in CCM time when loading up bikes (CCM time is the additional time it takes to explain to passers-by about our bikes and also specifically in Canada that CCM Motorcycles are not the same people who make hockey sticks). This is a good thing though as it does help as an ice breaker and allows us to talk to locals. On this particular day we met a very friendly chap who kindly bought us a map of forest roads to recommend a route to take through southern Vancouver Island. We had planned to take the Island Highway as far as Duncan and then cut Inland, but this chap gave us a new route to go, and just by having a different bike we got some local knowledge of the road ahead.
We didn't actually get on the road until the afternoon, as we had to stop in a supermarket to buy dinner for camping that evening. Our new plans were to follow the Coast road as far as Port Renfrew and then north to Lake Cowichan and find a camping spot by the lake. The roads along the coast were pretty fantastic snaking along for over 100km to Port Renfrew, although some locals we had passed told us that the road was really bad ahead, we found it was well within Roxy and Lola's comfort spectrum. Port Renfrew, however, was our first error in judgement, or so it seemed initially as when we looked on the map Port Renfrew looked a big enough town to have a petrol station. When we arrived in town this appeared not to be the case and in fact it was just a settlement of houses, an RV Park, a boat launch and a general store. With Lola already on reserve, we knew had a problem and after riding around the town it didn't look like we were in luck, but we asked at the general store and were told that the marina on the other side of the river would be able help us. We found the petrol and although well overpriced we were glad of the go go juice and then hit the road to Lake Cowichan.
The road to Lake Cowichan was everything a good biking road should be, with newish tarmac, great scenery, ascents, descents and wonderful variety of twists and turns. We made good time and arrived in Lake Cowichan at around 6pm, picked up a couple of cans of beer and took off along the north side of the lake to find a campsite. A few kilometres down the road, was the small village of Youbou and shortly after that the tarmac ran out we were on gravel logging roads. 4km down the logging road we found a lakeside campsite and pitched up for the night.
The next morning we were on the road before 10am and we hit the 100km of gravel forest road to take us to Port Alberini and then the Pacific Rim Highway to Tofino. The well groomed gravel roads are thanks to the massive logging industry in BC and it wasn't long before we were passing fully loaded tucks. The main lines we were using were wide enough for us to give the trucks a wide berth and 3 hours later we were in Port Alberini. We stopped for coffee and a sandwich and while we were inside the heavens opened and it was pissing down.
Tofino was 130 km of winding highway away, regarded as the best biking road on Vancouver Island the Pacific Rim Highway snakes past lakes and low level passes, the 400cc thumpers inside Roxy and Lola were perfect for this road and we doubt that a sports bike would have been as fun and as easy riding as the CCMs were. The whole way there it was hammering with rain which made it a little harder for Liz as this was her first experience on this type of road. The rain didn't let up the whole way there so we also copped out of camping,  it didn't look like it was going to be really dry during our three night stay in Tofino and we decided to take advantage of a roof over our heads. As we head north though, the opportunity of a solid roof will be less and less available.
We stayed at the Tofino Trek Inn , a backpacker's hostel run by the very friendly Joe, who included in the price of the stay a breakfast of toast and fruit. Our few days in Tofino consisted of walks around the temperate rain forest, which dominates the southern coastal regions of BC, and along the beaches, that draw in the surfers and tourists that are most likely the backbone of the economy here. Another town led us to another brewery and the evenings in Tofino were spent with bottles bought at the Tofino Brewing Company and looking at the maps for our journey north.
It was soaking again on our journey back across the island on the Pacific Rim Highway, we can only imagine how awesome that road would be in the dry. We stopped for lunch at Coombs Country Market, more commonly known as Goats on the Roof (for those in Devon and Cornwall the best way I can describe this place is that is similar to Trago Mills with Goats grazing on the roof).
That night we caught a massive break, we were invited to stay with Heather (a friend from Whistler), and her parents, Bruce and Daryl Lynne, in Campbell River. They were more than hospitable and not only did they give us a room to stay for a couple of nights, they fed us with proper home cooked food and the icing on the cake was the hot tub on the deck overlooking the Straight of Georgia with eagles hanging out on the trees above. As Daryl Lynne is a mosaic artist their house had some wonderful mosaic accents dotted around.
That night an orca swam past the windows of the waterfront home, we felt so lucky to have seen such a beautiful creature. Only minutes before we had been talking about our whale watching tour that we were doing in a few days and how orcas aren't usually around until July and August and we would be really lucky to see any.
The following day we took a walk through the rainforest to find the very impressive Elk Falls, we intended to do the 2km walk to the falls, but we parked at the bottom of the park and ended up walking 10km, oh well there is nothing like a bit of fresh air! Our last night with Bruce, Daryl Lynne and Heather was spent sat on the beach with a small fire enjoying the view.
The next day, the small tourist town of Telegraph Cove was our destination and rather than follow the main highway up the island we headed inland to the town of Gold River. The road to Gold River was equally comparable to the road to Tofino, if not better, but that may just be because the weather was much better and there was less traffic. After a quick lunch stop we were back on the gravel and another well groomed mainline wound us through the forest all the way to the small town of Woss and then it was on the highway for the last 50km until the turn off to Telegraph Cove, which was a well maintained stretch of tarmac obviously designed to accommodate the RVs that populate the town in the summer months. With it still being May the RV park and campsite was empty enough for us to pitch up and have a choice of almost any spot.
The following day we had been booked on a whale watching trip by Matt's mum, a birthday present from back in March. We had been told not to expect much, as the season for whale sightings, particularly orcas, is mainly in July, August and September when the Salmon return to lay their eggs. However, within half an hour we were following a grey whale along the bay (the naturalist on board explained that they only really get one grey whale sighting a year), then a few minutes later we found a pod of the orcas that we were not expecting to see. We were told that the behaviour shown by the pod when we found it meant that it was more than likely they had just made a kill. This was great as we got to see the animals very close in their natural environment. Then within an hour we were following the trail of a Humpback and then another one before a final Orca sighting. On our way back to shore we also saw sea lions, harbour seals and so many eagles you would think they were going out of fashion. It was awesome and to be able to see so many awesome creatures all on a 4 hour boat ride.
The next day was a very short hop up the coast to our departure point on Vancouver Island, Port Hardy, we found an awesome hostel the North Coast Trail Hostel and it was almost completely empty and we had the place to ourselves. The main common room was decorated with murals of local wildlife and the place had a really nice vibe about it, we feel this came from the owners who really seemed to love what they were doing. We can't recommend this place enough for a budget place to stay in Port Hardy.
We had a day to kill before our ferry so we took the 65 km gravel track to Cape Scott Provincial Park and San Josef Bay. This was 2 hours on good gravel roads although the last 10 km got a bit pot holey as it was only used to access the park and not by logging firms. We had a picnic and sat on the deserted beach, a 2.5 km walk from the car park. We thought how lucky we were to be there and just chilled out for a while. Then it was the ride back, the same way we came. It was pretty uneventful until Lola had a lie down on a tight junction in Holberg, a small community 40 km from Port Hardy. As Matt was ahead a logging trucker saw that Liz was struggling to pick Lola up and stopped to help until Matt realised Liz was too far behind and turned around.  We continued back to the Hostel for dinner and some pre-downloaded TV shows on the laptop.
The following day we packed up and had a leisurely day in Port Hardy preparing for our ferry at 6pm that evening. We had to check in at the ferry port at 4pm and everything was going smoothly until at about 3.15pm when we discovered that one of the clips that held on her tank bag had broken off (this may have been from Lola's lie down the previous day or just the cable tie holding it giving in at some point). Matt dashed to the local hardware store and purchased a replacement to offer a semi-permanent fix until we could get the spare that is back in Whistler. It was fixed on with cable ties and then it was off to the ferry. Once we were checked in we loaded onto the boat for the next day. We would unload in Prince Rupert back on the mainland after following the inside passage for some 500 km.